If there's one word that describes Dan Bruns, that word is reliable, and reliable is exactly what you want your Warehouse Superintendent to be.  In one capacity of Dan's role as Warehouse Superintendent, he is responsible for purchasing and delivering materials and tools to the jobsite.  His ability to organize and maintain our tools and equipment and get them to where they are needed allows our jobs to continue running smoothly and allows our Project Superintendents to stay on the jobsite.
Out at our warehouse, Dan tracks and organizes our tools, stock, and yard materials.  He is also our contact for customers who wish to rent our equipment and cranes.  His ability to meet both the needs of customers directly and our field staff is a testament to his friendly nature and dedication to the job.  Dan continues to keep up with new technology when it comes to tools and the more recent developments in tool and equipment tracking programs, which help to keep Cardinal organized when our resources are spread between multiple projects.
Dan grew up in the Cedar Valley, attending Janesville schools and eventually graduating from the 2-year auto-electronics program through Hawkeye Tech.  He started with Cardinal Construction in 1993 as a Shop Technician, which eventually led into the role of Equipment Manager, until 2018 when he took on more responsibility as the Warehouse Superintendent.  At the end of the day, Dan is a dedicated family man and says that spending time with family is top priority.  He also sneaks in some hunting and fishing when time allows.
For more information about Dan Bruns or other Cardinal team members, head on over to "Our Team" page.
Cardinal Construction is a general construction and construction management company based in Waterloo, IA.  We serve clients across Iowa in the senior living, education, commercial, industrial, and healthcare sectors.  For more information, or to talk to one of our construction specialists about your project, please click here.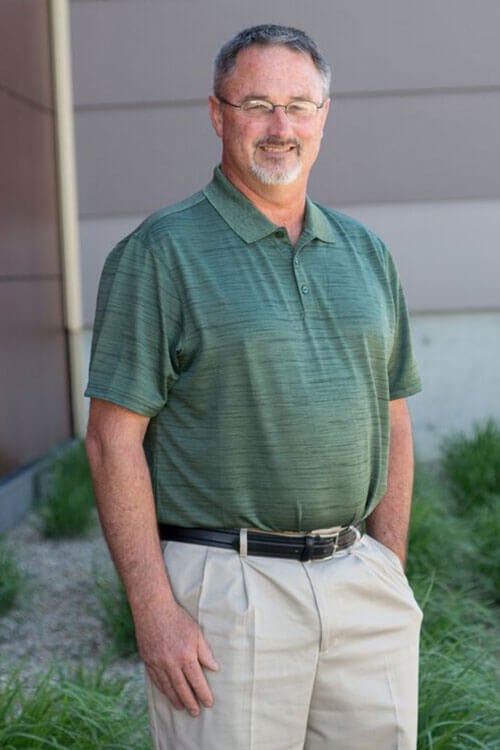 Dan Bruns
Warehouse Superintendent