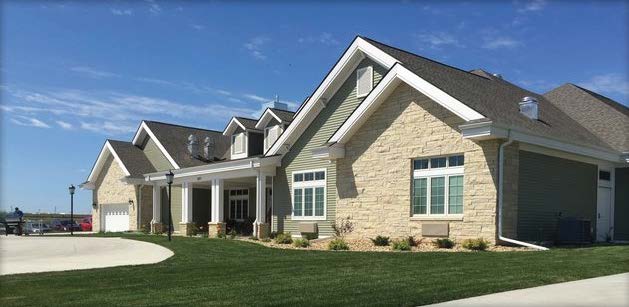 Creekside Cottages
Western Home Communities
Sq. Ft.
16 Unit: 13,660 & 20 Unit: 35,115
The Creekside Cottages provide skilled nursing in a home-like setting for residents in Grundy Center, Iowa. Three neighborhoods are housed within two buildings; one containing 16 resident rooms, and the other containing 20 resident room neighborhoods with centrally located support space.
The exterior of each building in characteristically residential. Inside, each neighborhood is centered around a shared open kitchen, dining and living room space to encourage interaction among residents. The household model of care ensures staff are well positioned to take care of all resident needs in a timely and caring manner.
Cardinal Construction served as the Construction Manager at Risk for this project, and self-performed all finish carpentry. Align Architecture and Planning served as the architect on the project.